Making memories, one community event at a time...
MakerTree Park is a family owned & operated event venue in the town of Northampton, NY, hosting events each month from Memorial weekend into the Fall harvest season. Events include Craft Show & Marketplace vendors, Farmer's Markets, Cruise-Ins, ect...
Contact us today, to make reservations for your graduation parties, birthday parties, reunions & private group camping.
MakerTreePark@gmail.com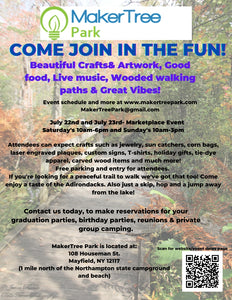 Craft Show & Marketplace Event
July 22nd & 23rd 2023
Saturday: 10am-6pm
Sunday: 10am-3pm